Skip to content
Historic Inns of Savannah
Places to Stay in Savannah, GA
3 HISTORIC SAVANNAH INNS
Selecting the perfect place to stay in Savannah is key to having a great vacation. Our three Savannah Historic Inns are The Eliza Thompson House, Kehoe House, and The Gastonian, and they consistently rank at the top of TripAdvisor's best places to stay in Savannah.
In the mid to late 1800s these three Savannah Inns were all glorious family homes in the historic district. Today, they're some of the most beautiful, well-restored mansions in Savannah, and the good news is you're welcome to spend the night! The most difficult thing might be deciding which Inn to try first --- so here's a summary of what you'll find at each one.
---
THE KEHOE HOUSE BED AND BREAKFAST
Built in 1892, this Renaissance Revival mansion overlooks Columbia Square. The Kehoe House features 13 guest rooms and multiple private and semi-private balconies. Amenities include daily gourmet cooked-to-order breakfast, a wine and hors d'oeuvres reception, homemade cookies and turndown service.
The Kehoe House
123 Habersham St.
Savannah, Georgia 31401
#1 Savannah Hotel on TripAdvisor for three years
#3 Top Romantic Hotel in the USA, 2019 TripAdvisor
#6 Top Hotel for Service in the USA, 2019 TripAdvisor
#8 Top Small Hotel in the USA, 2019 TripAdvisor
Ideal for elopements, weddings and anniversaries
Equipped with an elevator and private parking lot
Kehoe House Website
Book Now
THE GASTONIAN HISTORIC INN
The Gastonian sets the gold standard for historic inns. Savannah Magazine's "Most Romantic Inn" has been honored with many prestigious accolades and travel industry honors including recognition on Conde Nast Traveler's Gold List and the AAA Four-Diamond Award for more than 25 years. In 2019, The Gastonian was awarded TripAdvisor's coveted Travelers' Choice Award as a Top Romantic Hotel in the United States.
The Gastonian
220 East Gaston Street
Savannah, Georgia 31401
#14 Top Romantic Hotel in the USA, 2019 TripAdvisor
Built in 1868 as two residential mansions
Located near Forsyth Park
Perfect for special occasions and romance
Silver-tray breakfast service available
The Gastonian Website
Book Now
ELIZA THOMPSON HOUSE BED AND BREAKFAST
The Eliza Thompson House in Savannah is an exquisite 1847 inn located in a quiet corner of the city's historic district. Known for superior service and an authentic Savannah atmosphere—the inn is private, peaceful, and just a short walk from Savannah's most beloved historic attractions. Guests rave about the service and warm family atmosphere here.
Eliza Thompson House
5 West Jones St.
Savannah, Georgia 31401
Built in 1847 as a residential home
Located near Forsyth Park and the Mercer House
Beautiful private garden courtyard
Turn-down service and desserts every night
Eliza Thompson House Website
Book Now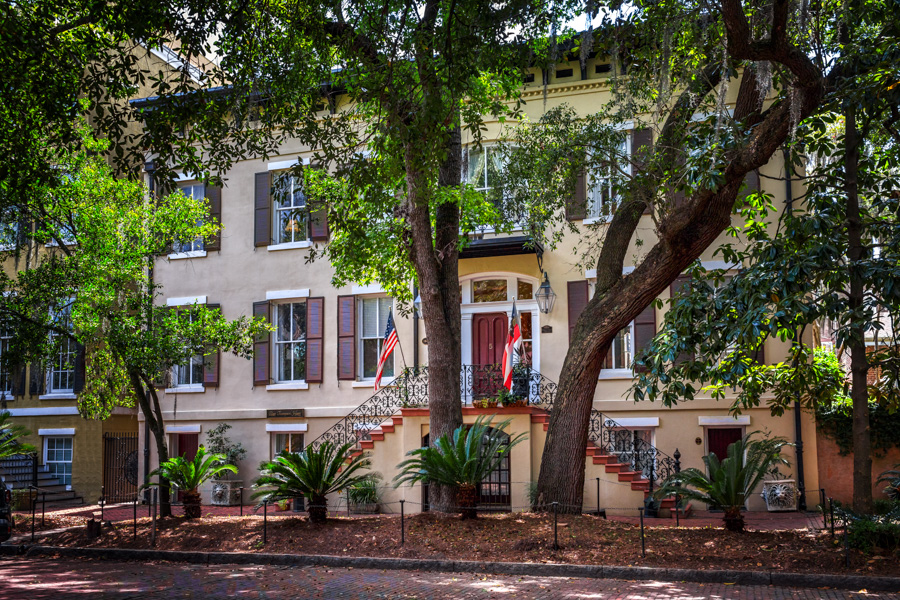 Which Historic Savannah Inn is Right for You?
Still undecided? Here's a summary of features you might find helpful:
Adults Only: Kehoe House, The Gastonian, and Eliza Thompson House
Chef Prepared Breakfasts: Kehoe House, The Gastonian, and Eliza Thompson House
Turndown Service: Kehoe House, The Gastonian, and Eliza Thompson House
With an Elevator: Kehoe House
Close to Forsyth Park: Eliza Thompson House and The Gastonian
Close to Broughton and River Streets: Kehoe House